I recently moved from Santa Barbara, CA to Boulder, CO.  I love the way this town is set up with bike paths, farmer's market, and lots of public outdoor spaces.  Aside from the first snow that fell today, so much of this place has a similar feel to Santa Barbara.  I appreciate the way I have been welcomed into my girlfriend's community, and am slowly building my own.  I hope you'll help me in building community here in Boulder by connecting me to those who need my services with this fall promotion:
$50 Fall Special Referral Fee
With the abundance of amazing designers here in Boulder, CO,  it can be a little intimidating to promote yourself in a new town.  I'm excited to connect with the potential clients who need my services.  I get excited about the opportunity to bring my skills to meet the needs for logo design for small businesses, non-profits, and conscious individuals doing powerful work in this world.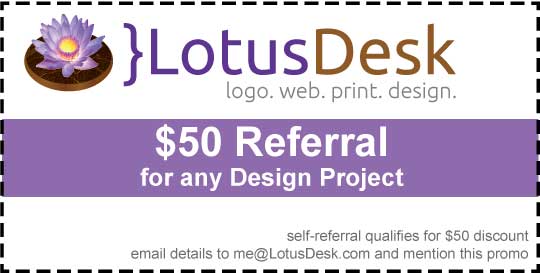 Most of all, I am passionate about sharing my unique approach of hands-on design with those who need the extra input and real-time feedback to make their layout, colors, and design feel completely aligned with their business mission & vision.  With my clients, I feel most of service when we sit together, face-to-face or via Skype, and they can see their requests for modifications (color, position, size, shape) immediately changed and presented so  they get exactly what they want.
Of course, I get to provide the feedback of what will look best in the larger representation of their business.  First and foremost, I want their design to be clean, professional, and an accurate embodiment of the amazing product or service they provide.  If you haven't had the opportunity to work with me, or know someone who can use my services, I'm offering a fall-special referral fee:
Have a great fall wherever you are, and if you live here in Boulder, let's get together for a bike ride, tea, or walk in the park, and I'd be happy to offer my free consultation to your current logo, website, and business card to ensure that you're getting everything you can out of your business, and attracting the customers who need what you do.
In gratitude,
Rion Beauregard
ps. Once again, a reminder to encourage you
to help connect me to those who need design and get $50:
$50 Fall Special Referral Fee