After years of creating WordPress websites, I've become efficient in my method of installing, setting up, and customizing themes.  This spring I had a client who needed a website completed for an art show she was producing in LA for a famous photographer.  The event was high-publicity, and she knew those in attendance could be potential clients for her future art shows.
I had 24 hours to start and finish this project, and although it wasn't highly custom or full of advanced features, it was exactly what she needed and created a way for visitors to view her work and understand what she could do for artists who needed a show and publicity.  I found several more customers who needed a similar service, and am – for a limited time – offering a discount to promote the effectiveness of a website complete in 24 hours:
Website in a Day Promotion: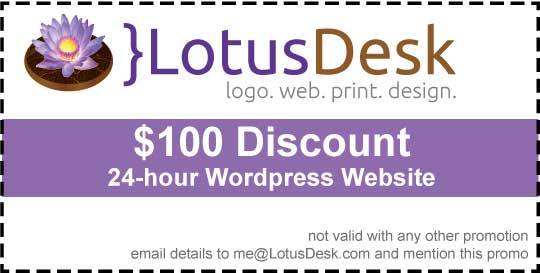 I recently finished a book, The $100 Startup, that blew me away.  Efficient in it's presentation, and effective in the real-world examples it gathered from world-class entrepreneurs, I learned a ton and am encouraging everyone I know to read it.  One of biggest take aways from this book is that most small businesses over-invest in startup costs that they don't need.
Most specifically, most small & start-up businesses don't need a $5000 website or even a $3000 website.  At most, they need a basic brochure website that tells the world what they do, how they do it, and why they are the best fit for you.
The reason I use and recommend WordPress is that it's modular, universal, and easy to use.  If you know how to upload photos and use a word-processor, you can maintain, blog and grow your website.  You can start with a basic website today and when the business starts pouring in, you can upgrade it, add to it, and even start using eCommerce through free and easy-to-use plugins like WooCommerce.  There is an abundance of free and affordable themes for your website, and a ton of designers and developers ranging from cheap to premium.
I worked at the Apple Store for 3 years, and usually convinced customers to purchase the cheaper model that usually exceeded their needs than the more expensive model that was, for most users, overkill.  Commission is not part of the Apple Store sales, and I prided myself of honesty and finding the best solution for each customer.
I still hold true to those values with my web design clients.  Most of the time, you don't need a custom built theme, and most likely, you don't even need a custom-created eCommerce, data-management, or client-tracking software.  9 times of out 10, the free and effective email marketing campaign provided by MailChimp meets or exceeds your needs.
I encourage you to research your industry, your audience, and your customer.  I invite you to check out the free resources at The $100 Startup Website, and – if it resonates – buy the book.  When you're ready to build a website, logo, and business card, I'm happy to sit down with you for a free consultation.
In gratitude,
Rion Beauregard
ps. if you or anyone you know needs a website tomorrow, I can do it.  Plus, for a limited time, I'm offering this discount: