The Proposal
This client built a triple spiral labyrinth on her land and wanted to create a brand around her work with helping her clients to walk the labyrinth and giving them reflections after their journey. Her want for symbology was minimalist and to be representative of her love for the outdoors and the natural world.
The Design
This brand and logo was born that had a beautiful balance of empty space and nature.  The thin spirals represent the delicate nature of presence and life to bring awareness to during the labyrinth walks.  The bold and supportive leaves which hold the thin spirals represent the client's presence for her clients and the surrounding natural world which holds the labyrinth and life in place.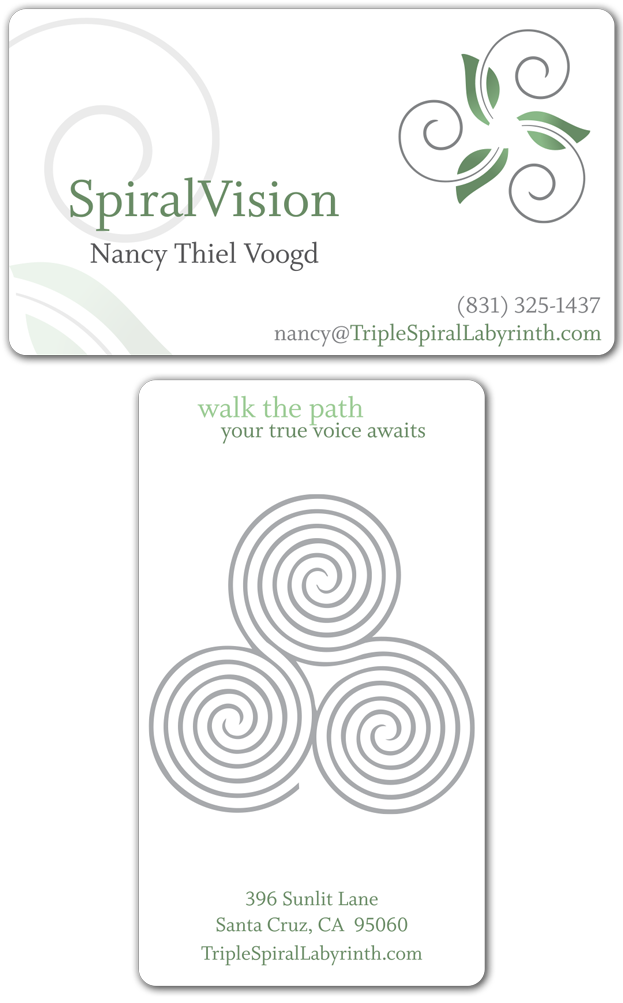 Business Card Design
The client wanted a minimalist and clean card with a triple-spiral labyrinth on the back of the card for her potential clients to be able to "walk" with their fingers. The final result was a hybrid of horizontal and vertical orientation on each side.
Rion created a brand that was consistent with the coaching work I do with my triple spiral labyrinth. He has been very responsive when it comes to updates, technical support, and additional projects. He helped me create a MailChimp template and integrate modular features into my website. He's always there to help when I need him!
Nancy Voogd
Complete Branding and WordPress Design for Conscious Business
If you like what you see, we can come together to improve your existing brand or build a new brand from scratch